New Jersey Realtors® is proud to offer Realtor® members savings on every aspect of the real estate business to help their bottom line and beyond.
New Jersey Realtors® exists to support all segments of its membership, in concert with the local boards and associations of Realtors®, by developing and delivering programs, services and related products which enhances the ability to conduct business successfully and ethically, and to promote the extension and preservation of the right to own, transfer and use real property.
$20,000 to Go To Local Charities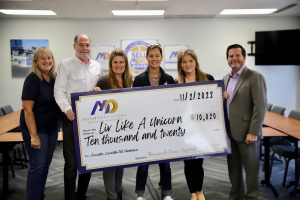 Monmouth Ocean Regional Realtors® members raised over $20,000 for two local charities, Jason's Dreams for Kids and Liv Like a Unicorn.
Realtors® Donate $12,000 for Habitat for Humanity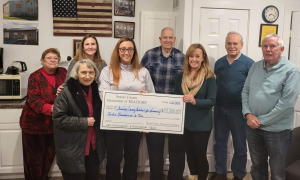 The Sussex County Association of Realtors® presented a $12,000 check to the Sussex County Habitat for Humanity to build a new home in Franklin. SCAR members plan to volunteer and look forward to assisting a local family in need.
Greater Bergen Participates in National Rebuilding Day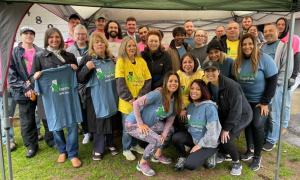 Greater Bergen Realtors® teamed up with the Realtors® Care Foundation, Rebuilding Together North Jersey, and the International Brotherhood of Electrical Workers—Local 164, for National Rebuilding Day 2023 and renovated a home in New Milford, providing a single mother and her children with a transformed living space.
CORE Realtors® Support Victims of Sexual Assault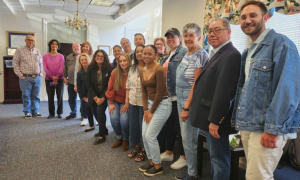 CORE Association of Realtors® Community Outreach Committee organized Denim Day with Safe + Sound Somerset. Over $1,500 was raised to support survivors of domestic and sexual violence and Realtor® members showed their support for victims of violence by wearing jeans and expressing solidarity by raising awareness.
Donation to Support Tutoring Children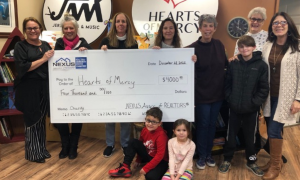 The NEXUS Association of Realtors® Community Service Committee donated $4,000 to Hearts of Mercy, a local nonprofit organization based in Manahawkin focused on providing support, care, and guidance in the lives of disadvantaged children in the Barnegat and Manahawkin communities. The donation will support the organization's mission of tutoring youth in the community.
Ocean City Food Drive, A Success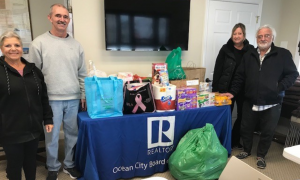 The Ocean City Board of Realtors® collaborated with the "Food Is Love, Share Some Love" drive to collect food and household items Donations included non-perishable goods, cleaning supplies, paper goods, and gift cards from Shoprite and ACME, and benefited local needy families through the Ecumenical Food Cupboard in Ocean City, NJ.
The winter food drive also supported four-legged furry friends with donations for animals at the Humane Society of Ocean City.
New Jersey Realtors® is the Voice of Real Estate in New Jersey
When it comes to protecting private property rights and the real estate industry, New Jersey Realtors® is the organization of choice. As the voice for real estate in New Jersey, we are strong advocates for public policy that encourages residential and commercial property ownership to support communities. Whether it's a local, state, or federal issue if it involves the real estate industry, New Jersey Realtors® is fighting to protect the real estate industry and the rights of private property owners.
New Jersey Realtors® provides advocacy services at all levels of government for Realtors® to make sure government policies are not adopted that would have a negative impact on the real estate profession. An example is ensuring no tax or fee increases are considered during the annual state budget process such as a tax on commissions. If a tax on commissions were adopted, Realtors® would owe over $1,000 on the average priced home sold in New Jersey in taxes on a 3% commission beyond what they already pay in income taxes. On a 5% commission, this would be over $2,000 in additional taxes. 2006 was the last time there was an increase on anything that impacts Realtors®—it's been 16 years since a realty transfer fee increase because of New Jersey Realtors® advocacy efforts.
Our work in New Jersey for the real estate industry and private property rights dates back more than a century, but here are our successes for our Realtor® members for the past 10 years.
S3578—Solicitation Protection for Homeowners
Requires text messages soliciting homeowners to provide notice when individuals sending solicitations are not licensed by the New Jersey Real Estate Commission.
Status: Passed in Senate and sent to Assembly Regulated Professions Committee
Success: Amended legislation language to protect those with their real estate licenses.
A1755/S2505—Required Rain Sensors as Condition of Sale
Requires installation of operational automatic rain sensor on lawn sprinklers as a condition of sale and on lawn sprinklers on commercial, retail, or industrial property and in common interest communities within specified timeframes.
Status: 2nd reading in Assembly 
Success: Working with Sponsor to make changes 
S3780/A5415—Help First-Time Buyers Enter the Market
Provides down payment assistance for the benefit of certain first-time homebuyers and first-generation homebuyers; establishes Resilient Home Construction Pilot Program.
Status: Signed into law by Gov. Murphy on June 30, 2023
Success: We're hosting a webinar with the Sponsor and the New Jersey Housing and Mortgage Finance Agency 
S335—Work to Establish First-Time Home Buyer Savings Account
Establishes New Jersey First-Time Home Buyer Savings Account Program and provides gross income tax benefits for certain contributions to and earnings on assets maintained in accounts established under the program.
Status: Currently in Senate Committee 2nd reading 
Success: Bill was successfully introduced/supported
A4522—Require Solar Panel Disclosure
Requires certain disclosures by sellers of single-family homes with solar panels installed.
Status: Passed in Assembly; awaiting Senate approval
Success: Secured amendment to protect real estate licensees–worked with the sponsor to make the disclosure be on the seller's property condition disclosure statement rather than have it be the responsibility of the Realtor®.
S3110—New Flood Notification Requirement
Requires sellers of real property and landlords to make certain notifications regarding flooding–successfully supported.
Status: Signed into law by Gov. Murphy on July 3, 2023
Success: Worked closely with the bill's sponsor, and other stakeholders to ensure the sellers' process wasn't onerous while allowing buyers and renters to obtain a property's flooding history.