NJ Realtors® Weekly–July 19
Top Story of the Week
Showing Support for NFIP Reauthorization
Last week, NJ Realtors® 2023 Immediate Past President Robert White represented our more than 61,000 members at an event hosted by Sen. Menendez and Sen. Pallone when they announced a plan to obtain a long-term reauthorization plan for the National Flood Insurance Program.
We applaud their continued efforts to protect policyholders across the state from the unintended consequences of Risk Rating 2.0. Click here to watch White in action.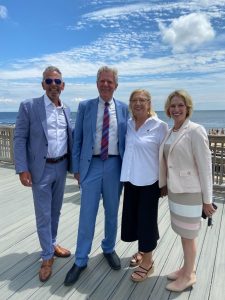 Being a Member Has its Perks
Save on Tickets to See Barbie and Oppenheimer in Theatres
Buy tickets to the upcoming summer blockbusters and save up to 40% with NJ Realtors® Member Perks Partner Member Deals. What's a movie without theatre popcorn? Save up to 30% on your favorite movie concessions and ticket bundles. Buy tickets here.
Read This: Red Bank Town Feature
State of the State
Discover Trends and Insights from Foreign Buyer Transactions
In a recent webinar from the National Association of Realtors®, NAR's research team dives into the potential impacts of state legislation banning foreign buyers from purchasing property. They provide insights into foreign buying trends, legal considerations, and Realtor® experiences with foreign buyer transactions. Watch the webinar here.