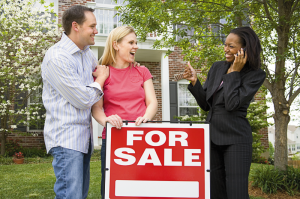 The 64,000+ New Jersey Realtors® members are some of the most professional and experienced real estate professionals in the state. In working with homeowners of all ages throughout New Jersey, Realtors® understand how exciting and potentially nerve-wracking the decision to purchase a first home can be. To help prepare buyers for the road ahead, we've compiled a dozen tips to get you started.
1. Get a Sense of What You Can Afford
Take the time to get a clear sense of how you save and spend your money. By calculating a debt-to-income ratio of your current monthly expenditures, and factoring in what you plan to spend for a down payment, you can gain a realistic view of what your monthly budget for a mortgage should be. Use NJ Realtors® Affordability Calculator to determine how much house you can afford to finance.
2. Settle on What Your Down Payment Will Be
The weeks, months, and years that lead up to purchasing your home are the ideal time to save. And, the down payment amount you ultimately decide upon will have an impact on your loan, mortgage payments, and whether or not you have to pay for Private Mortgage Insurance– required insurance you must obtain if you put less than 20% towards your down payment. Consider applying for first-time homebuyer assistance programs as you may be eligible for assistance.
While you don't want to completely deplete your bank account before you commit to a multi-year mortgage, you also want to make sure you're financing your home wisely.
3. Know Your Credit Score
Simply put, when qualifying for a loan your credit score is vital. There are services available online that will send you your credit report so that you can assess it for errors or outstanding payments that can be resolved before they negatively impact your ability to finance a home.
Obtain your credit report and if needed, take steps toward improving your score before moving forward. It's best to understand your credit score before you officially begin the homebuying process rather than be blindsided at the start of your financing process.
4. Plan for Financial Factors Outside of a Mortgage
Buying a home means much more than a mortgage. You will also need to financially plan for closing costs at the time of purchase, property taxes on the home, and the necessary insurance required.
For someone who has never purchased a home, these added costs can quickly surmount. Prepare a budget and account for additional costs accordingly.
5. Organize Essential Documents
When you ultimately seek approval for a loan you're going to be required to show proper documentation of your bank accounts, outstanding loans, employment, etc. Having the most up-to-date information ready and accessible will eliminate the stress and panic of looking for these documents at the last minute and will help make the process more seamless.
6. Narrow Down Your Ideal Location
Before you start to attend showings or contract a Realtor®, it is in your best interest to start considering the neighborhood or general geographic location you'd like to live in. Some common things to consider include:
Work commute
School districts
Shopping and Entertainment
Recreation
Pubic transportation availability
Property taxes by area
Discovering what factors are most important to you will help you narrow down the places you might want to look in.
7. Find the Best Realtor
Working with a Realtor® can alleviate a great deal of stress normally associated with buying a home. Realtors® — who subscribe to a strictly enforced Code of Ethics— represent some of the most knowledgeable, successful, and trustworthy professionals in their industry.
Working with a Realtor® who has knowledge of the area you are hoping to move to, or who may even specialize in assisting first-time buyers, is invaluable. With an array of services and resources at their disposal for use within their businesses, including access to the most comprehensive housing statistics available, Realtors® can help buyers navigate the market and determine a plan of action.
Realtors can sometimes also provide a list of recommendations for everything from a home inspector to a moving company, and work on your behalf to negotiate a reasonable final offer and outline all of the steps you'll need to take to achieve homeownership.
8. Prioritize Your Preferences
Having a list of what's most important to you and your family is a great way to prepare for the homebuying process. More importantly, identify the characteristics or amenities that are "musts" and others with which you might be a little more flexible.
Do you absolutely need an attached garage? You may find that it's not as important to you as finding a home in a certain school district.
9. Educate Yourself on the Market
Since buying a home is often one of the most expensive purchases you will make in your life, researching the process and the current housing market can only help your level of confidence in your final decision.
To get started, you can use data collected from NJ Realtors® Monthly Housing Market Statistics—to compare median home prices in neighboring towns and get an idea of the inventory that's currently available. Searching for homes that have recently sold will also help to paint a clear picture of what you can expect to spend in your ideal neighborhood.
10. Consider Getting Pre-Approved
Getting pre-approved for a loan before you start the buying process can be a benefit in a few ways. First, it provides you with an estimate of what you can borrow and what you can reasonably spend on a home. It also shows sellers that you are a motivated buyer whose offers should be taken seriously.
11. Take Pictures
Looking for a new home is exciting and emotional. And the more homes you visit, the more features might start to meld together. Differentiate between the home with the large dining room from the house with a finished basement by taking photos as you tour the home so that you can more clearly recall the details of what you liked and didn't like later on.
12. Get a Home Inspection
Having a thorough home inspection completed by a professional can give a clear understanding of the condition of the property and any immediate or future repairs that will be needed. Having never been a homeowner before, you may want to follow the inspector during the walkthrough so that you know where the breakers are, how to turn off the water supply if needed, and any other nuances that are unfamiliar to you.