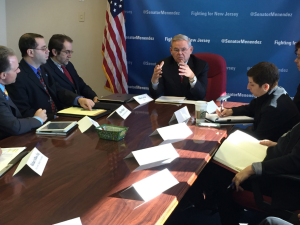 On Tuesday, January 19, NJ Realtors® President Tg Glazer and Local Government & Regulatory Affairs Coordinator, Bruce Shapiro, partook in an important roundtable discussion held by U.S. Senator Bob Menendez in his Newark office. The group, which included a number of industry stakeholders, engaged in meaningful discussions on how to best develop solutions to tackle New Jersey's foreclosure crisis.
"Addressing foreclosure, and taking measures to both help those in the process and prevent other homeowners from facing that situation, is always top of mind for Realtors," said Glazer. "We are pleased to work with Senator Menendez and other legislators to help Americans across the country with smart laws and regulations regarding foreclosure to help keep more people in their homes."
New Jersey's foreclosure rate outpaces every other state and is two and one-half times the national rate. The Garden State also leads the nation in "zombie" foreclosures, in which the mortgage servicer decides against completing the foreclosure process without notifying the homeowner, leaving long-vacated homes abandoned and the distressed homeowner on the hook for back taxes and fees.
"More than 35,000 New Jersey families faced foreclosure in 2015.  These are real families that have lost jobs, seen their life savings pillaged by the economic crisis, and have been confronted with excruciatingly difficult choices about debt and their children's futures," said Sen. Menendez.  "And beyond the household itself, high volumes of foreclosures in a community can in short order lead to devastating impacts for the neighborhood at large, blight and crime weighing down the values of neighboring homes."
"Realtors® fully understand the effect that zombie foreclosures can have on not just the family who owned a property in the foreclosure process, but also on the community as a whole in terms of decreased property values, loss of ratables, and aesthetics of a neighborhood," said Shapiro. "New Jersey Realtors® looks forward to working with our officials at all levels of government, and thank Senator Menendez for his leadership in bringing a renewed attention to this important issue."