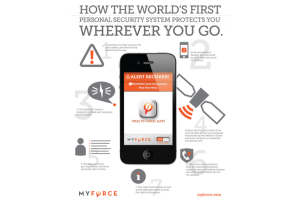 Safety is always a main concern, especially for Realtors® whose livelihoods depend on often meeting with clients on a one-on-one basis. Every September, the Realtor® community places extra emphasis on Realtor® Safety and the methods real estate professionals can integrate into their businesses to better protect themselves.
To help ensure you're up-to-date on the latest safety techniques, we invite you to join us on Thursday, September 10 at 10 a.m. for an informative webinar hosted by MyForce and featuring Tracey Hawkins, otherwise known as "Tracey, the Safety Lady," a nationally-recognized expert in safety and security. Tracey will review different techniques to stay safe, whether you're on the road, at an open house,  at the office, and more.
MyForce is a remarkable app that transforms your smartphone into a cutting-edge personal security device for those situations when you're feeling unsafe or finding yourself in a potentially dangerous situation. As a Member Perks partner, MyForce is offering a free, 30-day trial of the service, with a discounted rate of $9.99 a month or $99.99 a year for subscriptions to New Jersey Realtors®.