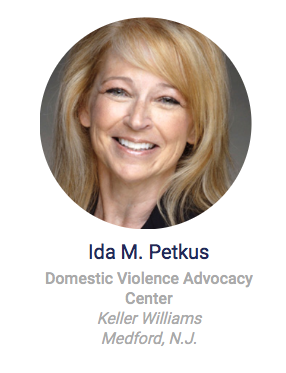 Ida M. Petkus, ABR, of Keller Williams in Medford — and the New Jersey Realtors® 2014 Good Neighbor Award recipient — has been announced as a finalist for Realtor® Magazine's 2015 Good Neighbor Award.
Petkus, who is cofounder and executive director of the Domestic Violence Advocacy Center, is one of 10 finalists from around the country. Realtor® Magazine will be collecting votes from Aug. 25 to Sept. 25, and the winner will receive an extra $1,000 grant for his or her charity.
Vote now at realtor.com/goodneighbor.
The Domestic Violence Advocacy Center provides support groups, overnight emergency stays, educational workshops, and other confidential services to help men and women experiencing domestic violence. The nonprofit also provides volunteer court advocates to help victims navigate the family and criminal court system. Since 2009, the nonprofit has helped hundreds of victims to escape their abusers and be safe.
If you'd like to apply for the 2015 NJ Realtors Good Neighbor Award, get started here.