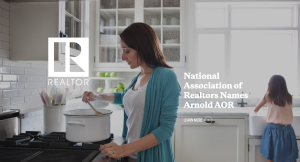 The National Association of Realtors® has announced that it has selected the Boston-based agency Arnold Worldwide to handle creative, digital, brand activation and strategy.
As reported in AdWeek, the trade association, one of the nation's largest, with more than 1 million members, spent slightly less than $50 million on ads last year, and $14 million in the first quarter of 2015, per Kantar Media.
Arnold's selection marks a major shift for the client, which has worked with the incumbent, Most, an independent agency, for the better part of two decades. "The decision ultimately was not about the past quality of their work, only an interest in moving in a different direction," NAR svp of communications Stephanie Singer told AdWeek.
Like so many advertisers these days, NAR wishes to target millennials, and Arnold's prowess with that segment proved to be a key factor in its selection, said Singer. (The agency has fashioned digital and social appeals aimed at young adults for clients such as Jack Daniel's and Carnival Cruise Lines.)
Millennials are key because they have "grown up in the technology age, where the role of the Realtor has become diminished as the online search process has evolved," said agency global president Pam Hamlin. "Arnold is tasked with helping NAR reclaim the Realtor's role in the overall home-buying process, and to educate millennials on what a Realtor does and the value they can provide."