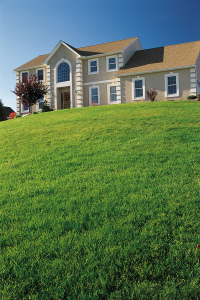 When it's comes to buying and selling homes, first impressions start on the sidewalk. Though a home's interior is profoundly important — and where new residents will spend a vast majority of their time — the significance of a home's exterior cannot be negated. Curb appeal is real. And it's important.
Front Door
A home's front door is often a focal point and should be treated as one of the best ways to make a positive impression. Any signs of peeling paint or rusted hardware should be replaced to reveal a fresh, new look. Choose a color that is complimentary to the rest of the home and hardware that is modern and resilient to outdoor elements.
For an even more profound transformation, replace the door entirely. Steel doors, which have an upfront replacement cost of around $1,200, have been found to have strong resale value, according to the 2015 Cost v. Value Report, put out by Remodeling magazine.
Windows
Don't place a "For Sale" sign in the front yard without first thoroughly washing the windows both inside and out. This easy-to-complete project will remove grime and dirt to reveal a little extra sparkle you're home might have otherwise been missing.
To take it a step further you may want to consider adding or replacing shutters on each front-facing window or securing flower boxes underneath windows for added charm and pops of color.
Front Porch
In addition to the front door, sellers whose houses boast the attribute of a front porch should take advantage of the opportunity to add instant curb appeal. Aside from painting or staining the porch, it may be advantageous to stage it just as you would an interior room. Use flowers as accent colors or add seating like Adirondack chairs or a swing to make the porch extra inviting.
Exterior Walls
Using a power washer or old fashion elbow grease, wash the exterior of your home as best you can. Removing years and layers of dirt and pollen can have instant results.
If you have the budget, a fresh coat of paint can also transform a home's appearance and attract attention from buyers and passerby's.
Garage
If your home's garage is one of the first things visitors see then it's important to question these few items and possibly add them to your to-do list:
Does the color of the garage match or compliment the rest of the home's exterior?
Does the door have scratches or damage that needs to be repaired?
Should the garage door be replaced entirely?
Driveway
If a driveway is littered with oil stains or cracks these might be eye sores worth addressing before listing a home. Even if a homeowner cannot afford the expense of a complete resurfacing, spot treating problem areas can help to ensure that the quality of your driveway compliments the rest of the home.