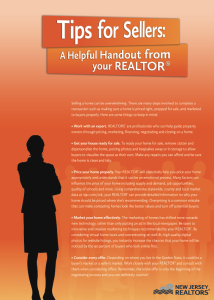 Making the decision to list your home for sale can sometimes be overwhelming. There are many schools of thought on how to best sell your home for the highest price in the shortest amount of time, but knowing who to trust and which road to go down can sometimes add to already mounting stress. At New Jersey Realtors we've spent almost 100 years working on behalf of our members and property owners to connect buyers and sellers with leading experts in real estate. Here are some things sellers should keep in mind:
Work With an Expert. Not every licensed real estate agent is a Realtor. While all Realtors are licensed agents or brokers, they are also leading professionals in the field who subscribe to a strict code of ethics and belong to the largest trade association in the country. Realtors are professionals who can help guide property owners through pricing, marketing, financing, negotiating, and closing on a home.
Get Your Home Ready to Sell. Start the selling process off on the right foot by preparing it for showings to potential buyers. This includes removing clutter and depersonalizing the home by putting photos, keepsakes, and other personal items away in storage. By removing these touches that are uniquely you it allows buyers to visualize the space as their own and to make an emotional connection to what the home might look like once they move in.
In addition, taking the time to make affordable repairs and ensuring your home is clean and organized will help to market your home more successfully.
Price Your Home Properly. When you choose a Realtor, he or she will be able to objectively help you price your home appropriately. Realtors understand that settling on a final listing price can be emotional, but they also have an array of tools, data, and statistics to support a reasonable, competitive price structure. When pricing a home factors including supply and demand, job opportunities, and quality of schools should be considered.
Using comprehensive statewide, county and local market data made available via sites like njrealtor.com/10k, your Realtor can provide detailed information on why your home should be listed at the recommended price.
Overpricing a home is common mistake that sellers make. Not only can it turn off potential buyers, it may make competing homes look like better values.
Market Your Home Wisely. Our reliance on the Internet, access to smartphones, and easy-to-use apps is only growing and the marketing of homes is following suit. Rather than only putting an ad in the local newspaper or relying on a lawn sign, be open to innovative and creative marketing techniques recommended by your New Jersey Realtor. By considering virtual home tours and concentrating on well-lit, high quality digital photos for website listings, you instantly increase the chances that your home will be noticed by the 90 percent of buyers who look online first.
Consider Every Offer. Depending on where you live, it could be a buyer's market or a seller's market. Work closely with your Realtor and consult with them when considering offers. Remember, the initial offer is only the beginning of the negotiating process and you can definitely counter.