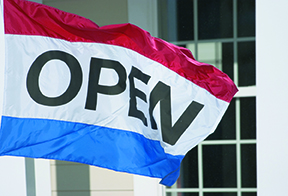 Open houses have remained a tried-and-true way for New Jersey Realtors — and their colleagues around the country — to effectively present and market a client's home to potential buyers. But because the success of many open houses is based on first impressions, prepping your home so that it excites attendees is an important step in selling your home.
Remove Clutter and Personal Items
Given the fact that you've lived in, and presumably enjoyed, your home for the last few years, if not more, it's a fair assumption that most homeowners have acquired a great deal of mementos, decorations, and other objects that prospective buyers might classify as clutter. Preparing for an open house means you should finally put away the boxes that have been piling up in the spare bedroom, hide the over flowing toy box, remove appliances from the kitchen counter, and tackle the closet organization project you've been dreading.
Some experts even recommend renting a storage unit during the selling stage so that you can clear away items that aren't used everyday to create a cleaner canvas for new homeowners to picture how they'd make the house their own.
Similarly, to help buyers visualize the home as theirs, you should consider removing items that overly personalize the space. This mean clear the fridge of drawings and menus, take down family photos, and remove art or memorabilia that seems too personal.
Organize and Highlight Storage Areas
In addition to making sure your home is clean and removing personal items, it's important that key storage areas — like linen cabinets, closets, kitchen drawers, etc. — all appear to be organized and well utilized. Having adequate storage is important for many families, so when they tour your home and open up the closet door in the hall they should be greeted by nicely folded towels or bins that have been carefully stacked as opposed to teetering towers of bed sheets or toiletries.
Make Small Repairs
Potentials buyers who become strongly interested are likely to pick a part some of the little things. They'll notice if the door to the bedroom squeaks loudly, the kitchen drawer is missing a handle, or the hallway light bulb is blown. While these smaller items might not become deal-breakers, it's better to make these small repairs before promoting an open house to ensure that small blemishes don't draw unwanted attention.
Enhance Curb Appeal
As much as the interior of your home matters, first impressions will be formed on the sidewalk. Before your open house starts ensure the lawn is mowed, garbage cans aren't a main focal point, and that the exterior of the home looks well tended to. If possible, make sure the driveway is clear or that there is nearby parking so that attendees don't have to spend their time circling the block or trekking to the house when they could be falling in love with the home instead.
Protect Your Valuables
Prior to letting potential buyers into your home, take extra measures of precaution by locking up jewelry, valuables, and prescription medications. While your Realtor should make every effort to never leave anyone unaccompanied in your home, it's always better to err on the side of caution.
Stage the Home
Regardless of whether you have the budget or desire to stage your home during the selling process, there are simple measures that can be taken to project your home in the best light. Start by replacing all of the towels in the bathroom with freshly washed ones, put out a vase of fresh flowers, and set the table so that buyers can visualize what it'd be like to host people in the home.
Be Mindful of Odors
Odors that are too strong — even if they are cleaning products or air fresheners — can become too distracting during an open house. Some guests might not favor the fresh linen candle the way you do or might assume you're trying to cover up for an unwanted odor they might discover after closing. Instead, make sure any pleasant smells are in the background and don't become key notes of the home.
Let in the Light
Utilize as much natural light as possible to make rooms look larger. Before the open house starts, turn on lights in interior rooms, like the bathroom or kitchen, so that buyers can easily and clearly see everything your home has to offer.
Leave the Home
As tempting as it might be, most Realtors encourage their clients to vacate their homes during an open house. Buyers tend to be more upfront with questions when the homeowner isn't present, and your Realtor will be able to offer an unbiased view of the home's key attributes and selling points. During an open house it's also recommended that your pets leave, too, so that anyone with allergies or a fear of animals isn't inadvertently turned off.