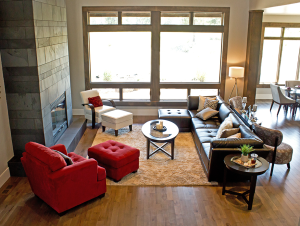 When it comes to listing a home for sale, New Jersey Realtors has found that there are a few minor changes and upgrades that can be done to help a home stand out positively amongst other houses on the market. Some of these require a little elbow grease and others need some strategic planning, but all of them can help to boost a home's profile.
Remove Outdated Fixtures
This includes popcorn ceilings and any wallpaper that doesn't read as neutral. Popcorn ceilings are a hassle to remove, but many buyers view them as antiquated, and not in a trendy, historical way.
In general, wallpaper can be hard to look past for some buyers, especially if it has a strong pattern. If it's neutral or a solid color, a home could survive on the market with it, but prospective owners often don't enjoy a bold flowered pattern running through the first floor.
Price the Home Competitively
While this probably reads as common sense, it can be tempting for sellers to want to push the listing price up as a high as possible. Obviously a home has sentimental and emotional value to the seller and that can skew their perceived value of the property. That's why it's so important to work with a trusted, respectable New Jersey Realtor. They have the business know-how to explain what price points work best.
Pricing a home competitively with other comparable properties in the neighborhood will ensure it will drive sellers to the home — not away from it.
Clean Up the Clutter
Living in a home while trying to sell it is difficult. As time-consuming as it may be, make sure a home is clutter-free when shown to prospective buyers. It can be difficult for a buyer to see past a clump of wires, old magazines, and general accumulation of clutter. A clean, clear living room provides a blank slate for a buyer to imagine their future in.
Consider a Home Inspection
Why wait until the last minute to get a home inspection? A proactive seller can opt to get an inspection before they list so they know if there are any problem areas to address before buyers start looking. This can help avoid closing delays and seller concessions.
Don't Ignore Smell
A seller may not notice the funky smell coming from the attic, but a buyer certainly will. Sometimes smells become common in the home and a person can grow accustomed to them. Make sure to get an unbiased opinion that your house isn't hiding a serious odor problem before you host an open house.
Potential buyers will not only be turned off by a bad smell, but could read into it as indicative of a larger problem with the home, even if it's not.