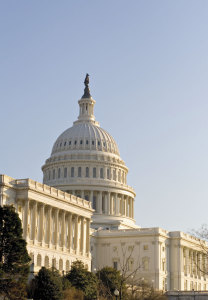 NJ REALTORS® — along with members from the state's local boards and associations — attended the REALTORS® Legislative Meetings and Trade Expo during the week of May 11 in Washington, D.C. Held annually, the midyear meetings serve as an advantageous opportunity for REALTORS® to attend meetings with their state legislators to discuss topics, legislation, and initiatives important to REALTORS® and property owners. Additionally, the conference connects leaders and experts within the REALTOR® organization from across the country who attend panels and workshops to learn from one another and strengthen the association.
In REALTORS®' meetings with members of Congress a number of specific issues were discussed, including REALTORS® support for maintaining the Federal Housing Administration's mission, although many in Congress are concerned that the FHA has not met its required excess reserves and would like to limit FHA to first-time/low-income borrowers. New Jersey REALTORS®, however, provided examples of credit-worthy borrowers with a need for FHA loans who may not fall under the conventional loan requirements, but find that FHA works well for them.
NJ REALTORS® thanked the representatives for their swift action in passing the Homeowner Flood Insurance Affordability Act, while also reminding them of the importance of preserving the Mortgage Interest Deduction and real estate tax benefits.
The June issue of New Jersey REALTOR® will include a more in-depth look at the significant meetings and events that took place over the course of the week.