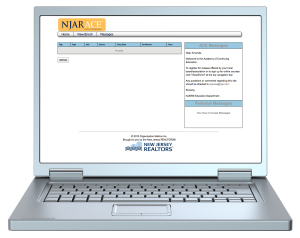 Maintaining your real estate license requires more than just filing for renewal every two years. Every individual licensed as a broker, broker-salesperson or salesperson must complete 12 hours of continuing education credits to qualify for renewal on July 1, 2015. At least six of the 12 must be obtained in the core topic areas. The six core credits must also include at least 2 hours on ethics. The remaining six credits may be core or elective.
To help you meet this requirement, New Jersey REALTORS® and our local boards/associations offer a wide variety of courses that have been approved for CE in each of the various topic areas – core, ethics and elective.
New Jersey REALTORS® recognizes the importance of lifelong learning to the real estate profession and continually strives to offer the highest quality in continuing education opportunities for our members. Our partnership with Hondros College allows us to offer top-notch online education through our CE portal, New Jersey REALTORS® Academy of Continuing Education.
As a benefit of membership, REALTORS® may take advantage of a diverse catalog of 3-credit online courses for $10.50 each. You can brush up on your basic industry knowledge with the Real Estate Contracts or the Agency Law courses or expand your scope of expertise with something new like Investment Analysis for Commercial Properties or Demystifying Real Estate Short Sales.
A free two-credit REALTOR® Code of Ethics course that satisfies both the New Jersey CE requirement as well as the four-year National Association of REALTORS® requirement is also available. Visit njarace.com and log in to view the entire course catalog. Your username is the primary email address you have on file with NAR and the password was created the first time you logged in. If this is your first time logging in, please use the New User Account Setup feature found below the password box.
Prefer to complete your education in a live, classroom setting? Local boards and associations throughout the state are now offering classes on a wide variety of subjects from minimizing your liability to environmental concerns to agency relationships and disclosures to getting started as an investor. Be sure to visit njrealtor.com and view the calendar for a list of live classes being offered across the state.
Many boards and associations also offer classes that lead to a designation or certification from NAR and its affiliates. These designations and certifications acknowledge experience and expertise in various real estate specialties including Accredited Buyers Representative, Resort and Second-Home Property Specialist, Military Relocation Professional, and the new Seller Representative Specialist.
A recent NAR study found that REALTORS® with at least one designation had a median income of $27,600 more than those without one. In addition to increasing your earnings and demonstrating your commitment to professional development, you'll also be on your way to finishing your credits – it's a win-win-win.
We are dedicated to helping you complete your CE requirement, renew your license, and expand your career. For more info and any questions, please contact the Education Department at New Jersey REALTORS® at 732-494-5616.
This article originally appeared in the March issue of NJ REALTOR® magazine.