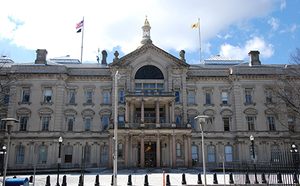 New Jersey REALTORS® created its Governmental Research Foundation in 1999 to research issues pertaining to land-use policies and other matters that would impact residential and commercial property owners. Through the GRF, NJ REALTORS® raises awareness of these issues through public policy research and then presents practical solutions to improve the overall quality of life in New Jersey's communities.
GRF Reports
Understanding the National Flood Insurance Program in New Jersey: A study of the history of the NFIP in the state and pricing, based on flood zones.
Examining Flood Map Changes in New Jersey: An in-depth look at the process of creating flood maps and the corresponding insurance rates in the state.
Local Government Consolidation: Analysis of Local Government Functions: The potential savings from consolidating local government units in New Jersey.
Local Government Consolidation: Analysis of Public School Districts: The potential savings from consolidating school districts in New Jersey.
Economic Impact of Property Tax Levy Caps: The effects on the New Jersey economy of the 2 percent cap on property tax levy growth.
Costs and Benefits of Residential Energy Efficiency Improvements: The economic costs and benefits associated with "green building" practices or techniques improving the energy efficiency of a home.
An Evaluation of Property Values in New Jersey Transit Villages: Has the state's the state's Transit Village initiative (and subsequent redevelopment) led to increased property values for home and business owners within the designated area of a Transit Village?
Immigration and the New Jersey Housing Market: A look at the immigration patterns of people moving in and out of New Jersey.