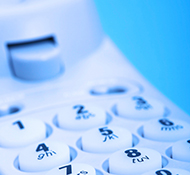 The FCC and the FTC established a national Do Not Call Registry that was created to help protect consumers from receiving unwanted telemarketing phone calls. Although NJ REALTORS®' efforts to make real estate licensees exempt from the New Jersey Do Not Call law were successful, the FCC created rules SUPERSEDING state law exemptions. Therefore, Realtors® are prohibited from calling anyone within New Jersey or in another state who is listed on the National Registry unless they have an Established Business Relationship as defined by the FCC. Realtors® who make telemarketing calls MUST follow the provisions of the national Do Not Call laws and regulations.
In 2009, the FTC announced updated fees charged to entities accessing the National Do-Not-Call Registry. The annual fee adjustment, as required by the Do-Not-Call Registry Fee Extension Act of 2007 specifies that beginning after the fiscal year 2009, the dollar amounts charged were increased by an amount equal to the amounts initially published in the Act, multiplied by the Consumer Price Index for the 12-month period ending June 30 of each year. For more information, read the FTC press release.
Previously in 2008, the FTC published a final rule in the "Federal Register" that amended the Telemarketing Sales Rule to prohibit telemarketing calls that deliver prerecorded messages, unless a consumer previously agreed to accept such calls from the telemarketer. The provision requiring that all prerecorded telemarketing calls provide an automated interactive opt-out mechanism became effective on December 1, 2008. Another provision requiring permission from consumers to receive such calls became effective September 2009. Read the full text of the Final Rule.
More information about the Do Not Call Registry can be found on NAR's Do Not Call FAQ Page.