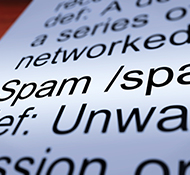 In 2008, the FTC published in the Federal Register a Final Rule, "Definitions and Implementation Under CAN-SPAM Act, that provides definitions, modifications and clarifications to the "Controlling the Assault of Non-Solicited Pornography and Marketing Act" of 2003 (CAN-SPAM).
CAN-SPAM is a national standard designed to control deceptive or fraudulent commercial email. The Act outlines a series of practices that must be followed when sending commercial e-mails, bans certain fraudulent or deceptive practices, and criminalizes techniques used by spammers to avoid detection. The CAN-SPAM Act applies to all "commercial e-mails", whether solicited or unsolicited and includes criminal and civil penalties for violations. Damages of up to $250 per violation (or treble damages for willful violations), with a maximum award of $2 million are possible.
The Act mandates all commercial emails to include:
a legitimate return email and physical postal address
a clear and conspicuous notice of the recipient's opportunity to opt-out of any future messages,
a mechanism that may be used or an e-mail address (active for at least 30 days after message transmission) to which a recipient may send a message requesting not to receive any future email messages from the sender
a clear and conspicuous notice that the message is an advertisement or solicitation
clear notice in subject heading if messages include pornographic or sexual content.
Helpful Links:
NAR's Anti-Solicitation Field Guide.
NAR's Legal Affairs department analysis of the FTC rules.