SAVE THE DATE!
Realtors® Care Day 2018 — Wednesday, September 26, 2018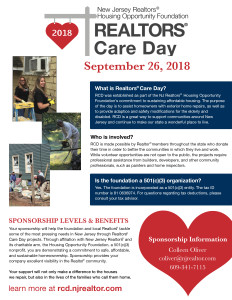 Since its inception, Realtors® Care Day has been a great way for members to give back to the local community through improvements including landscaping and outdoor cleanup. Additional projects can include adaptive and safety modifications for the elderly and disabled. Ultimately, the projects not only restore a homeowner's pride, but also instill a revitalizing momentum in the community.
Typically, local boards/associations have several volunteers who organize the project, solicit corporate donations, find contractors or other workers if necessary, and provide duties to REALTOR® volunteers on the project days. To support their efforts, NJARHOF also donates up to $1,000 to help cover any other expenses they might incur.
"We've seen a tremendous response from homeowners, who repeatedly tell us how appreciative they are of the REALTOR® volunteers and how these projects have so positively impacted their quality of life," said NJARHOF President Christina Clemans.
If your local board/association has not yet gotten involved but you'd like to learn more, contact Colleen King Oliver.
OUR MISSION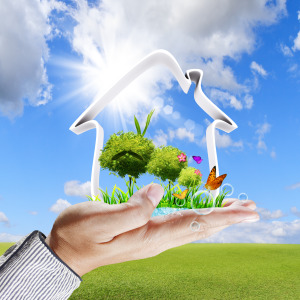 Housing is an essential part of the way communities function and thrive, and the New Jersey Realtors® Housing Opportunity Foundation, Inc. is a 501(c)(3) organization with a mission to foster increasing opportunities in New Jersey for safe, affordable housing. Funds provided to the Foundation go towards other 501(c)(3) organizations throughout the state that create affordable homeownership options, develop public awareness, and offer homebuyer education.
Projects NJARHOF has supported include:
Donations to victims of Superstorm Sandy
Training Realtors® through the Employer-Assisted Housing and Expanding Housing Opportunity Seminars to help businesses develop EAH benefit plans for their employees
Providing Financial Literacy and homebuyer seminars to the public throughout the state
Sponsorship of Habitat for Humanity projects around the state
Currently, donations of $15 or more to NJARHOF are eligible to receive a NJ Realtors® coffee mug. Click to log in and donate.