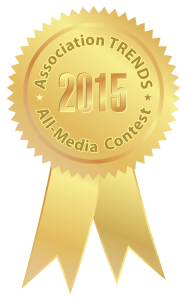 New Jersey Realtors is thrilled to announce that we've been honored with a gold award in the Membership Directory category in Association TRENDS' 2015 All-Media Contest. It was one of nearly 400 entries in the association publications contest.
The TRENDS All Media Contest is an annual competition held exclusively for associations, recognizing the most creative and effective communication vehicles developed in the industry over the prior year. The 2015 competition included 400 entries in 22 categories of association communications.
The winning membership directory — NJ Realtors 'Find a Realtor' web feature —was designed to provide consumers with access to a plethora of real estate experts based on location or criteria, and also gives members of NJ Realtors another opportunity to market themselves and their services to potential clients. NJ Realtors® can enhance their listings within this website feature by updating their Realtor profiles.
"The membership directory was a major component of our association's rebranding and website redesign. We are honored to receive this award and proud of the great work our staff has put in to best serve our members and consumers," said Jarrod C. Grasso, NJ Realtors CEO.
NJ Realtors will be honored at the 37th Annual Salute to Association Excellence, to be held March 4, 2016 at the Capital Hilton in Washington DC. The winning entry will be on display at the event, along with the other winners. As well as being honored at the Salute to Association Excellence, this year's All-Media Contest winners will be featured in the March issue of TRENDS, and online.