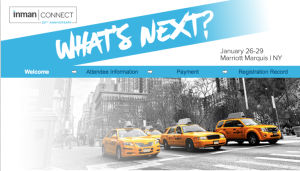 From January 26-29, Inman is hosting its 20th anniversary Inman Connect event in New York City.
As members of NJ Realtors®, you are entitled to a $200 discount off of the registration price.
Having become a nationally recognized event for tapping into the newest technological advances and how they can better your business, this year's Inman Connect will focus on leaders of the real estate industry convening to discover, debate and define 'What's Next'. Topics include:
Building a digital marketing strategy
Lessons on organized real estate
Data safety
Recruiting
Notable speakers include author Seth Godin, Kara Swisher of RE/CODE, Andrew Strickman of Realtor.com, and many more.
In addition to the main conference, Inman has announced that they will be offering a free, single-day event in New York City on Jan. 26. Registration is required.
All conferences (including Tuesday's free event) will take place at the New York Marriott Marquis.
To register, click here. The discounted rate will appear after you select your pass option.