Young Professionals Network
Young Professionals Network: The Future of the Real Estate Industry
Game On — Networking Event — November 14 6 – 8 p.m.
JOIN US AT SILVERBALL MUSEUM IN ASBURY PARK!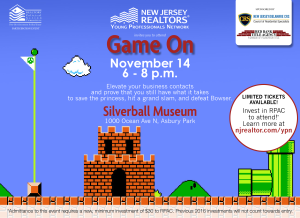 Elevate your business contacts and prove that you still have what it takes to save the princess, hit a grand slam, and defeat Bowser. Your entry includes unlimited plays on your favorite pinball and arcade games, local bites, beer and wine.
To attend, all you need to do is make a new, minimum $30 investment in RPAC. Previous 2016 investments will not count towards entry.
If you are an affiliate member of a local board and do not have a valid login to njrealtor.com, but would like to attend this event, please call 609-341-7106 to make your investment. Thank you to our sponsors! 

---
The New Jersey Realtors® statewide Young Professionals Network has been created to encourage the involvement and networking of Realtors® ,to generate fresh ideas across multiple levels of the industry, and stay ahead of the curve to ensure a strong future.
The statewide YPN will not take away from any ongoing YPN efforts, but will instead serve to complement the numerous, successful YPN's that have blossomed on the local level.
Why YPN?
The New Jersey Realtors® Young Professionals Network offers networking and professional development opportunities to emerging leaders in the real estate industry from across the state.
Attend events, conferences and webinars
Contribute to a forum of ideas and industry trends
Network with like-minded professionals who can offer advice, provide referrals and help generate leads
Join NJ Realtors YPN group on Facebook!
---
A Night at the Racetrack
More than 350 Realtors® and real estate professionals attended New Jersey Realtors® Young Professionals Network's first statewide YPN event. Held June 9 at the Meadowlands Racetrack, the evening included a DJ, cigar roller, and photo opportunities in front of the branded step and repeat. Proceeds from ticket sales were donated to the Boys & Girls Clubs of NJ to support more than 74,000 children at 65 sites throughout the state.